Student Participants and Training Coordinators alike can manage their accounts, edit addresses and change passwords. They can also search the catalog, contact the local help desk for support, use our video troubleshooting tools and review the FAQ's.
Selecting Courses to be Licensed
Unlike students, trainers can view full-length previews of all course materials - both DVD-style programs and interactive e-learning courses.
By searching the catalog and previewing candidate courses, trainers and administrators can select materials for building the curriculum. Once the desired courses have been identified, the administrator can purchase the corresponding licenses.
Registering Students
Coordinators and administrators can register individual students (employees) with the ArcLearn website by entering their names and e-mail addresses. Bulk registration can be accomplished by uploading an Excel spreadsheet containing the same information.
Enrolling Students in Courses
The next three images (below) demonstrate the process of enrolling students in courses. In addition to handling enrollments on a one-at-a-time basis, Arclearn provides tools for establishing reusable groups of students and reusable groups of courses. Once the groups have been defined, rapid enrollment can be performed by assigning the desired course group to the target student group. Of course, when necessary, individual students can be enrolled in single courses.
The first image shows students being selected from the Actuarial Department and being sorted alphabetically. Two of the seven department members have been selected as group members. Double-clicking a student name on the left side moves that name to the right ("selected") side; likewise clicking a name on the right side moves it back to the "available" list on the left.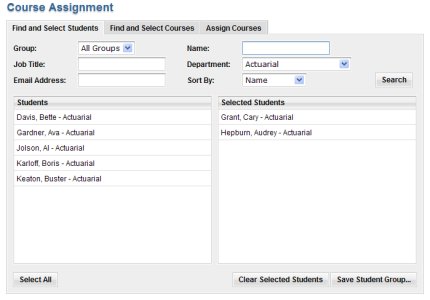 The next image shows that a single course has been selected from those licensed by the organization.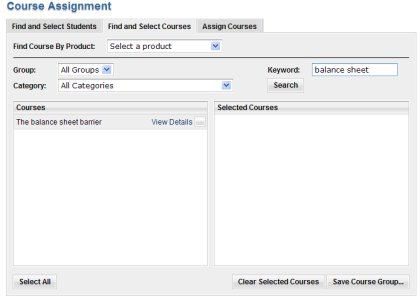 The final image indicates that the course has been classified as required and it must be completed by March 31st. When the user clicks on the "Assign Courses to Students" button (at the lower-left), the enrollments will be recorded in the ArcLearn database and an e-mail announcement will be sent to each student. As time permits, a student can sign-in to the ArcLearn Portal, access his or her
"My Courses"
page and select the assigned course for viewing.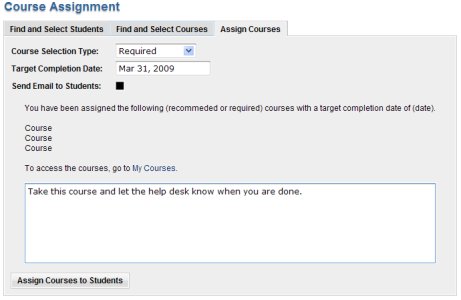 Tracking Progress
ArcLearn includes a suite of reports to assist Training Coordinators in monitoring student progress and evaluating course utilization. A sample list of reports is shown below. Note that some reports allow the user to specify a date range. The resulting reports can be downloaded as a PDF or Excel spreadsheet.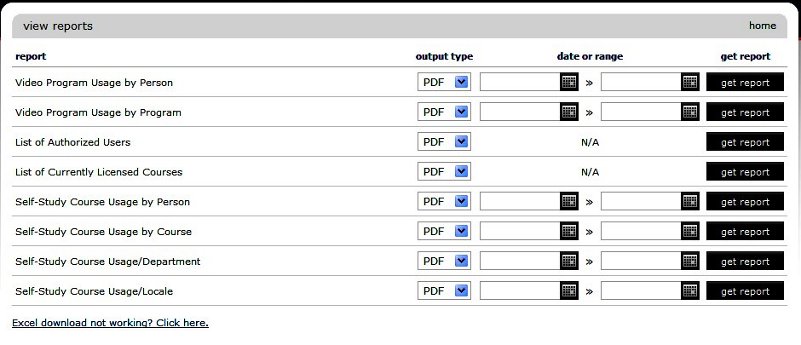 The answer is ArcLearn:
eLearning... simplified!